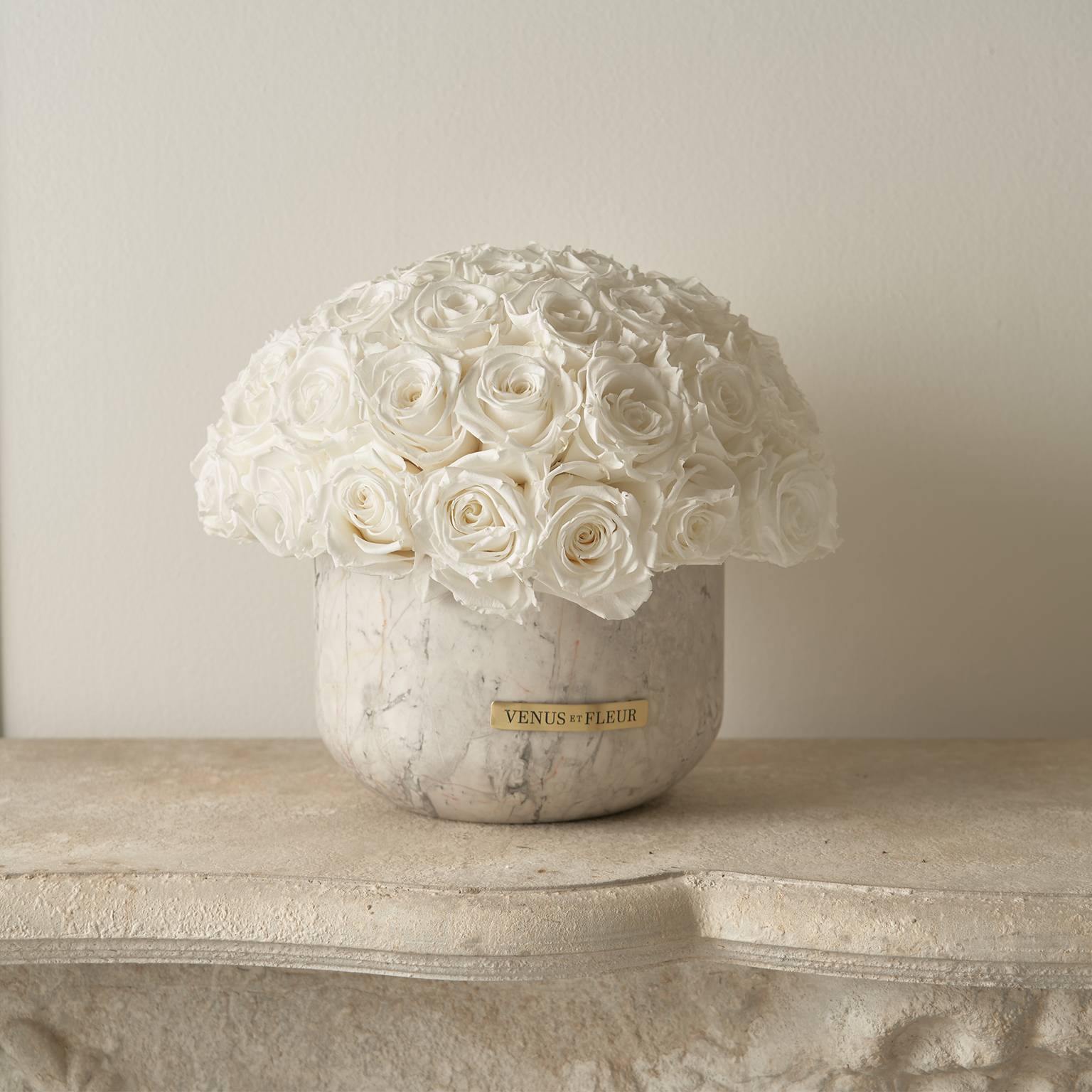 May 4, 2023
What Are Eternity® Roses?
You may have seen our floral arrangements in The New York Post or noticed an Insider article highlighting our stunning roses. Regardless of where you've discovered Venus et Fleur®, you likely ask, "What are eternity® roses?". We answer your questions by taking a closer look at this incredible product and reviewing the benefits of ordering an eternity rose arrangement for yourself, your friends, and your family.

Eternity Roses Are…
Real Roses
Unlike other companies that sell luxury rose arrangements online, the roses used in every Venus et Fleur arrangement are 100 percent real flowers. Many of our blooms are grown and cultivated in Ecuador, benefiting from the country's favorable equatorial climate and soil conditions. Once they reach their peak state, the roses are cut and treated with a proprietary solution and color pigmentation process to help them keep their freshness and natural biological structure.
Long-Lasting Roses
If you have ever received a rose delivery, you probably noticed they did not last as long as you wanted. Traditional roses typically only last up to a week before their leaves start wilting, their blooms begin drooping, and their scent starts fading. This can be very frustrating and leaves a lackluster impression. Thanks to the proprietary process used to treat these roses, they maintain their aesthetic for up to a year when cared for properly, and their delicate rose scent will last for weeks.
A Low-Maintenance Arrangement
While there is nothing like an amazing bouquet of fresh-cut roses, their maintenance can be tedious. First, you must ensure the flowers have a constant supply of fresh, clean water. Second, you must prune the wilted leaves to maintain the arrangement's aesthetic and trim the stem for proper water intake.
Our eternity rose arrangements are much easier to care for and maintain. If you want your flowers to continue looking their best, it is important that you do not water them. The only care our preserved roses require is an occasional light dusting should they require it.
Customizable
When you order flowers from other companies online, you may find that there are limited options for customizing your arrangement. At Venus et Fleur, we pride ourselves on offering our customers the ultimate shopping experience that allows you to customize your arrangement. With our Design Your Own customizer, you can design a fully custom arrangement with different letters, numbers, symbols, and rose patterns. With more than 20 shades of rose colors and an array of flower box materials, you can create an arrangement that fits your unique aesthetic and style.

The Perfect Gift of Elegance
Sending flowers to friends and loved ones is the best way to show them how much you love and appreciate them. Whether your recipient just graduated from college, landed a dream job, closed on a new home, had a baby, or is celebrating any other milestone event, our eternity arrangements are sure to convey those sentiments that words alone cannot express. One of our most popular gifts for loved ones is the Fleura Vase, a timeless and sophisticated vase filled with beautiful eternity roses. Our Small Le Plein also offers a fuller and more refined look for any home décor or office space. These real, long-lasting roses are the perfect gift of elegance, providing incredible beauty to any home or office.
Order Your Eternity Rose Arrangement Today
From unique custom arrangements to classic arrangements in our signature Parisian-inspired classic flower boxes, our eternity roses are perfect for any occasion. Whether you are looking for a self-care gift, a wedding anniversary gift, or a housewarming gift, Venus et Fleur turns every moment into lasting memories.