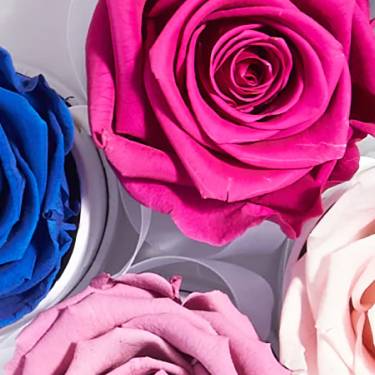 Jan 1, 2022
National Floral Design Day: What Is It?
Flowers spread love, joy, and beauty, so celebrating stunning floral creations is always at the top of our to-do list. Each year, National Floral Design Day is held on February 28. This special day is all about celebrating the beautiful craft of floral design.
The art of floriography has played a large role in many societies. The centerpiece of everything from lush, historic flower gardens to elegant bridal bouquets, flowers add beauty and love to our lives.
Today, we're exploring the origins of National Floral Design Day and discovering the best ways to celebrate National Floral Design Day in 2022.
What Is National Floral Design Day?
National Floral Design Day is an annual celebration recognized on February 28. This lavish holiday recognizes the talent of those who work in the floral industry and the stunning beauty that flowers provide.
This special celebration's festivities and celebrations have only grown over time. Let's take a look back at National Floral Design Day's history and discover how it began.
The History of National Floral Design Day
Flowers have played a significant role in history, dating back to the Ancient Greeks and Egyptians. The importance of flowers was shown throughout Greek tradition, with flowers often included in myths, stories, and offerings to the Gods.
Ancient civilizations recognized flowers for their color and beauty, and they were brought to temples as floral offerings. As decades passed, the tradition of gifting flowers to earthly goddesses and beautiful women was born.
The Ancient Egyptians also valued flowers greatly and recognized them for their beauty. Before heading into war, pharaohs would decorate their carts with delicate flowers. The Egyptians even gave their lovers flowers as gifts to show their adoration.
Ancient Egyptians made paintings, etchings, and carvings showing stunning bouquets of lotus blossoms, which is where the history of floral design began.
Flash forward to modern times, when National Floral Design Day was established in 1995 by the governor of Massachusetts. Massachusetts created this special holiday to celebrate floral pioneer Carl Rittner, founder of the Floral Design School in Boston. This prestigious institution has taught many aspiring florists about floral art and design, thanks to Rittner's contributions to the craft.
Each year, the official holiday is honored on February 28 to celebrate the stunning art of floral design. Read on to discover elegant ways to celebrate National Floral Design Day this year.
How to Celebrate National Floral Design Day
If you love admiring gorgeous flowers, you should celebrate National Floral Design Day with Venus ET Fleur® this year!
Decorate Your Home
To honor this special day, start by decorating your home with stunning bouquets of luxury Venus ET Fleur Eternity® Roses. Our long-lasting roses will instantly brighten your home and are a wonderful way to pay homage to this floral holiday.
Host a Brunch
Once your home has been decorated with elegant flowers, you can share your love for flowers by hosting a brunch to celebrate National Floral Design Day with friends and loved ones. Simply prepare some finger foods and incorporate floral elements into your decor for a lovely celebration.
Immerse Yourself in Flowers
Another way to celebrate this special holiday is to dress up in your favorite floral-inspired attire and spend the day looking at ethereal flowers.
Check out nearby flower shops and browse their selections of stunning bouquets. While walking through the aisles, look at the materials florists use to craft their arrangements and explore their unique design styles.
After this, head to your favorite local museum, and look for paintings, sculptures, and designs featuring floral art. Once you are finished, head to a nearby park for lunch, and spend time in nature looking at the colorful and elegant blossoms around you. You are sure to enjoy this time surrounded by nature and the beautiful flowers around you.
Give the Gift of Flowers
If you love gift-giving and want to celebrate National Floral Design Day this year, send flowers to someone you love. Our Small Heart arrangement from our Classic Collection radiates love and gratitude, making it perfect for showing affection to the people you love most.
This timeless arrangement is filled with glittering roses and set in a stunning heart-shaped box. This box is inspired by Parisian hat box designs and detailed with the Venus ET Fleur logo. Whoever receives this treasure will surely cherish your heartfelt gift and be so excited to celebrate National Floral Design Day in style.
Design a Floral Arrangement
Regardless of your floral design skills, a fabulous way to celebrate National Floral Design Day is to design a unique floral arrangement. Simply choose a box, select your arrangement, pick your rose colors, and customize your box to take your floral design skills to the next level.
If you need inspiration along the way, our Venus design specialists can help you bring your vision to life. With over 24 different rose colors and over 35 custom designs, you will fall in love with your personalized arrangement of gorgeous, long-lasting flowers.
Make sure that you post a photo of your beautiful floral creation on social media, and use hashtags created specifically for #NationalFloralDesignDay. You can even tag us @VenusETFleur as well!
Final Remarks
Now that you know how National Floral Design Day began, we encourage you to spend some time celebrating this unique holiday this year. Whether you spend the day looking at beautiful blossoms or designing your own floral arrangement, you will love celebrating the beauty of flowers.
Join us this year in celebrating the craft of floral design on February 28, and remember to gift yourself a beautiful floral bouquet as a well-deserved treat.
Sources:
The Language of Flowers | Smithsonian Institute
The Importance of Spending Time in Nature | Thrive Global