THE SHOPS & RESTAURANTS
Hudson Yards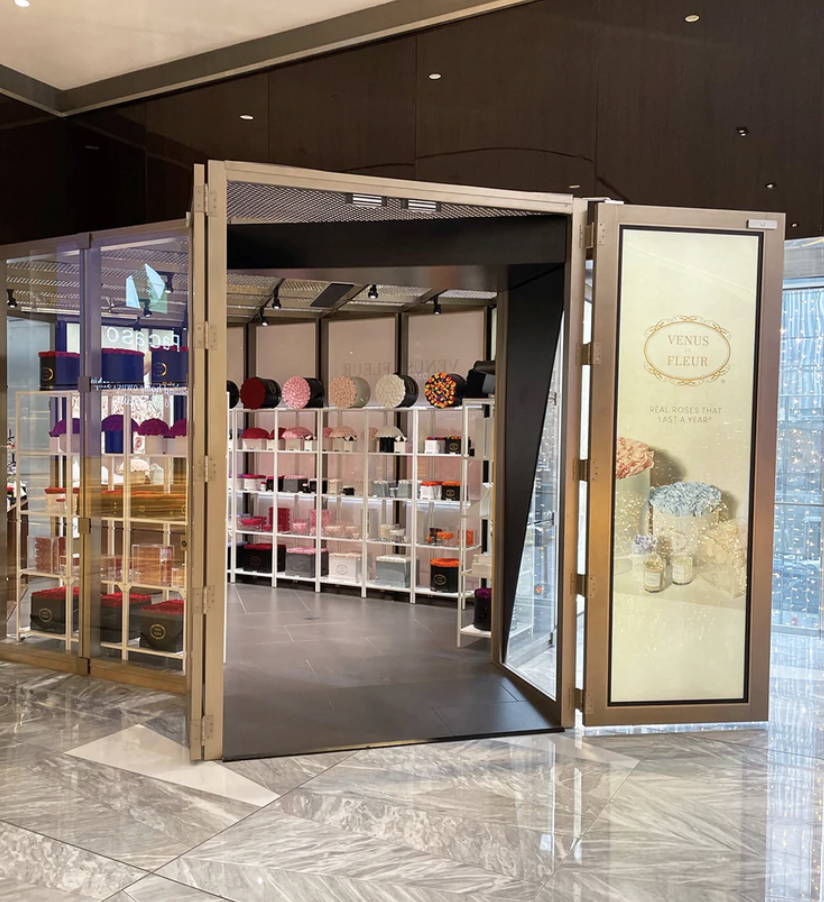 Home of Eternity® Flowers
Venus ET Fleur is a premier bespoke eternity rose and mixed floral atelier that intersects the romantic tradition of sending flowers with exceptionally stylish design. We specialize in luxurious, customizable precision arrangements of everlasting flowers or flowers that last for more than an entire year.
Frequently Asked Questions
What Are Eternity® Flowers?
The Eternity Flowers used at Venus ET Fleur® come from the lush, vibrant rose fields of Southern America. Each rose is carefully cultivated until it reaches a full bloom. Once the flowers are at their peak, they are picked and shipped to our facilities in the US. When the flowers arrive, their color is removed using a non-toxic solution. From there, each flower is treated with a formula made from non-toxic and non-allergenic wax, as well as natural oils. This formula is similar to silica and effectively dehydrates the roses to help preserve them. Once the dehydration process is complete, the flowers soak in dye to give them the bright and vibrant colors you've come to expect from our gorgeous Eternity Flowers.
How Do Eternity Flowers Last A Year?

To ensure long-lasting florals that provide aesthetic appeal for months on end, we use a proprietary solution and color pigmentation process to keep the freshness of the flowers and then instill them with a wide array of lovely colors. You can read more about our preservation process in our feature in Business Insider article.
Does Venus ET Fleur Deliver?
With so many gorgeous arrangements of Eternity® Flowers to choose from, it's no wonder you want to send them to everyone you love. Luckily for you, Venus ET Fleur® offers delivery on all of our beautiful arrangements! Now it is easier than ever to send real flowers that last a year™ to people all over the country. Whether you want to send flowers as a wedding gift, a graduation gift, a birthday gift, or simply because you are thinking about someone, we give you the option to have amazing arrangements delivered right to the recipient's door. We even offer deliveries to more than 50 international countries!
During the checkout process, we give you the option of choosing when you want your flowers to be delivered. If you are having your arrangement delivered in the greater New York City area, Northern New Jersey, or Los Angeles area you may qualify for same day/next day hand delivery based on eligibility.
Can I Create A Custom Order?
When Venus ET Fleur® first launched in 2015, we only offered a few different arrangements of our Eternity® Flowers. Since then, our collection has grown to include a variety of styles, shapes, colors and box materials.
Although we have hundreds of different arrangements for you to choose from, there may be times when you are looking for something specific to give to the one you love. Luckily, at Venus ET Fleur® we give you the option of customizing your very own arrangement of Eternity® Flowers! We offer a selection of 35 different custom designs, and 24 different flora; colors, including mint green, metallic rose gold, rainbow, and so many more!
There are endless possibilities, design your own arrangement now!
How Do I Care For My Eternity Flowers?
Because Eternity® Flowers last a year, one might assume that they need a lot of care to continue looking their best. However, with our Eternity® Flowers, care is minimal. The dehydration process ensures that our flowers are preserved at peak beauty, and water is not needed to keep them that way. In fact, if you want your flowers to continue looking their best, it is important that you do not water them, and make sure you keep them contained in the container you received them in.
If you notice that your florals are looking a little dusty after a few months, then you can lightly remove the dust using a duster. Additionally, make sure to keep your flowers at room-temperature and in an area where they are not at risk of being crushed.
All care instructions for your Eternity® Flowers can be found here.