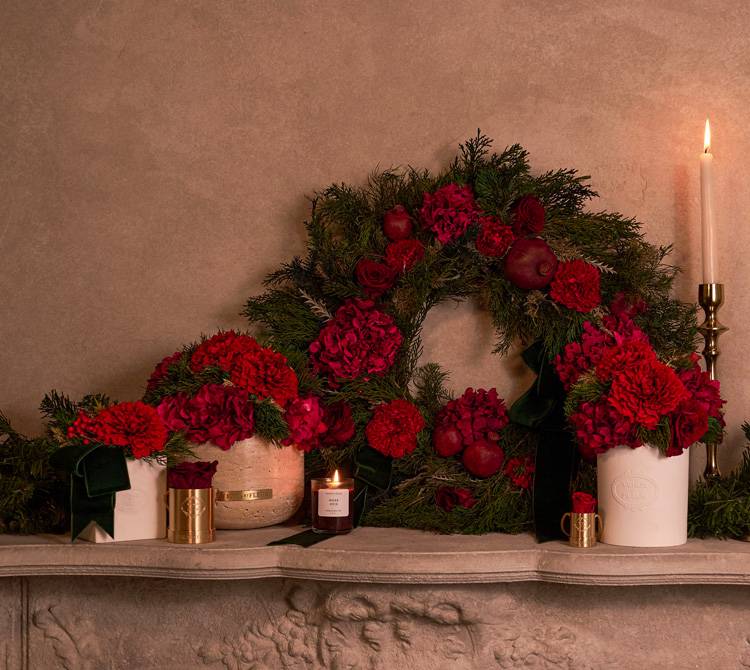 Nov 20, 2023
Venus et Fleur® Holiday Gift Guide 2023: Unique Gift Ideas for Every Loved One
Finding the perfect holiday gift for everyone in your life can be a challenge, but when you discover that ideal present, it becomes a cherished memory. The key to a great gift lies in its uniqueness, personal touch, and how well it reflects the recipient's style.
Venus et Fleur® offers a diverse range of custom gifts, home decor, and floral arrangements suitable for all occasions, including Christmas and other holidays. Our selection enables you to find gifts that perfectly align with your loved ones' tastes, including exclusive eternity floral arrangements that maintain their beauty for an entire year.
CHOOSING THE PERFECT HOLIDAY GIFT
The Venus et Fleur Holiday shop presents a variety of gift options suitable for everyone on your list. Here are some suggestions for finding the perfect match:
Gifts for Coworkers and Jetsetters
For those who love travel and adventure, consider these unique gifts that add luxury and comfort to their journeys:
- The Classic Bundle Set from Venus et Fleur includes a votive candle and two mini eternity arrangements, bringing a sense of home wherever they go. This bundle is also ideal for long-distance relationships, allowing partners to share a piece of each other's presence.
- Personalized Arrangements Take your arrangement to the next level by customizing each box, using a unique combination of designs.  
- Personalized Fleur Frame from Venus et Fleur, makes the for the perfect keepsake to surround your memories in real roses that last a year or more.
Gifts for the Person Who Has Everything
For those hard-to-shop-for individuals, consider these thoughtful ideas:
- Eternity Floral Arrangements from Venus et Fleur: Surprise them with stunning arrangements that last up to a year, adding a new element to their home decor.
- Handmade Wine Glasses from Venus et Fleur. Allow their stemware to be the talk of the tabletop while hosting holiday gatherings. 
- Charitable Donations: Make a donation in their name to a cause they care about, paired with a thoughtful Venus et Fleur arrangement.
- Dinner at Their Favorite Restaurant: A thoughtful gesture that values quality time and good food.
Gifts for Homebodies
For those who cherish their home space, consider these cozy and luxurious options:
- The Thalia Porcelain Vase from Venus et Fleur: A beautiful arrangement that adds elegance to any room.
- Cozy Slippers and Throws: Enhance their comfort with high-quality, cozy slippers and a plush throw blanket.
- Tea Sets and Exotic Teas: A perfect gift for enjoying warm, soothing beverages at home.
- Top Shelf Liquor and Bar Sets: Elevate their home entertaining with premium spirits and elegant bar accessories.
- Rosette Tray A beautiful tray for enjoy the beauty of floral motifs while indulging in your favorite snack.
Gifts for Glamour Enthusiasts
For those who love fashion and beauty, consider these stylish choices:
- The Le Clair Quinze from Venus et Fleur: An acrylic flower box that doubles as a chic storage solution for makeup and jewelry.
- Luxury Skin Care Tools: High-quality beauty tools for enhanced skincare routines.
- Handbags: Add a one-of-a-kind handbag to the story of your loved ones life, with an irreplaceable luxury handbag.
- Perfumes and Room Sprays Select a signature scent or an elegant room spray from Venus et Fleur's collection.
- LED Face Masks: A trendy and effective skincare tool for a glamourous home spa experience.
Gifts for Minimalists
For those who appreciate simplicity and functionality, consider these elegant and practical options:
- Small Flower Arrangements from Venus et Fleur: Subtle yet beautiful arrangements that complement minimalist decor.
- Simple Jewelry: Timeless pieces that match their understated style.
- Sea Salt Sets: A collection of gourmet salts to enhance their culinary creations.
- Coffee Subscription and French Press: A monthly coffee subscription paired with a stylish French press for a refined coffee experience.
Gifts for Art and Ambiance Lovers
For those with a keen eye for art and aesthetics, these gifts will surely impress:
- The Fleura Porcelain Vase from Venus et Fleur: A stunning mixed orchid arrangement that adds a touch of elegance to any space.
- Art Prints: Select a print from a beloved artist or a classic piece that matches their decor.
- Handcrafted Rosette Vase from Venus et Fleur is the statement piece for your home. Each flower is individually sculpted to embody the feeling of looking at a fresh bouquet of flowers. 
- Puzzles of Famous Artworks: A cozy and creative activity that doubles as a decorative piece.
- Illustrated Stationery Sets: Personalized stationery paired with a high-quality pen for a touch of luxury in their correspondence.
Gifts for Lovers
 For those closest to you, choose gifts that reflect the depth of your relationship:
- Eternity Rose Arrangements from Venus et Fleur: Romantic and long-lasting these arrangements symbolize enduring love and affection.
- Jewelry: A diamond bracelet or necklace as a symbol of your commitment.
- Silk Robes and Eye Masks: Luxurious items for comfort and relaxation at home.
- Staycation Experiences: Book a luxurious night or weekend away for a romantic escape.
Gifts for Chefs
For the culinary enthusiasts in your life, consider these kitchen-centric gifts:
- Decorative Flower Arrangements from Venus et Fleur: Add beauty to their kitchen or dining space.
- Rosette Bowl by Venus et Fleur, featuring intricately sculpted petals throughout this one-of-a-kind serving bowl. 
- Cookbooks: Select a book with unique or favorite recipes to inspire their culinary adventures.
- Gourmet Salt and Spice Sets: Elevate their cooking with a collection of high-quality seasonings.
Gifts for Health and Wellness Enthusiasts
For those dedicated to physical and mental well-being, these thoughtful gifts will resonate:
- The Florentina Vase from Venus et Fleur: A rose quartz-adorned arrangement for positive energy and elegance.
- Scented Candles: Ideal for meditation or creating a serene atmosphere at home.
- Luxury Adaptogens: High-quality blends for overall wellness and balance.
- Mala Beads: A meaningful accessory for meditation and mindfulness practices.
- Meditation Benches or Cushions: Enhance their meditation space with comfortable and stylish seating.
Gifts for Hosts
For those who love to entertain, these gifts will add to their hosting experience:
- Elegantly Arranged Flowers from Venus et Fleur: Beautiful and lasting arrangements that serve as conversation pieces.
- Drinkware Essentials from Venus et Fleur: Beautiful handcrafted wine glasses and champagne flutes with custom Venus et Fleur Wine Stopers. 
- Luxury Coasters: Marble coasters that protect furniture while adding a personal touch.
- Luxury Bar Sets: High-end bar tools and accessories for sophisticated entertaining.
- Charcuterie Boards and Serving Dishes: Elegant serving solutions for stylish gatherings.
- High-Quality Home Speakers: Enhance their entertaining ambiance with a set of versatile speakers.
PREPARE FOR THE HOLIDAYS WITH VENUS ET FLEUR
As the holiday season approaches, our gift guide offers ideas for everyone on your list, ensuring they receive comfort, luxury, and love in their presents. For the finest in long-lasting roses, floral arrangements, and elegant home decor this holiday season, explore our offerings at Venus et Fleur.